Is Wallpaper Really Making a Comeback?
When you think of wallpaper, you may recall the popular bold prints of the 1960s and 1970s in psychedelic and harvest colors. Even in the 1980s, many homes still put up wallpaper in sticky-sweet pastels. Over time, the fad faded and fewer homeowners were installing wallpaper to create patterns in their homes. But the wallpaper industry has changed and people are starting to revisit the use of this home décor. Wallpaper is making a comeback, but it's not your grandma's wallpaper anymore. Here's what's new.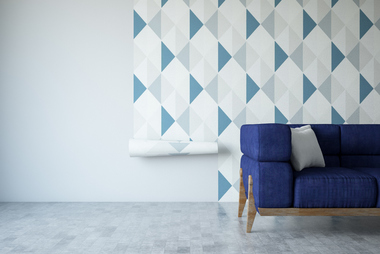 Removable Wallpaper for a Quick Change
With the invention of removable wallpaper, everything changed for the world of home decorating. This low-commitment wall covering option is great for any space, even if you're renting. You don't have to leave the bold design choices behind when you buy, either. When you can change it up often, it won't feel like your design choices have to last forever. Self-adhesive wallpaper, for example, is easier to hang and a lot less messy. Better yet, you can replace it whenever you want a fresh new look.
Bold Print for Big Statements
Just like traditional wallpaper, self-adhesive wall coverings come in many patterns and colors. One great way to make a statement with removable wallpaper is to go with a bold print to liven up a space. Choose a color that works with your decor, or use the wallpaper as your inspiration piece to design the rest of the room around it.
Focal-Point Walls for a Single Accent
If you're not ready to commit to wallpapering an entire room, choose one wall to turn into a focal point. Use wallpaper on just one wall, like you might use an accent color, to draw attention to the space and create a backdrop for your furniture and other design accessories. It really is okay to mix patterns. For example, a bold botanical print on one wall can look great with a coordinating plaid fabric on pillows and other accessories.
Decorating for an Era
Because wallpaper is often associated with decades past, you can use these eras as your inspiration to create a modern look. You can draw on these designs that harken back to freshen up your rooms. For example, large floral prints were big in the 1940s before modern designs came into vogue in the 1950s. The 1960s saw a bolder use of color while the 1970s returned to muted shades.
If you're ready to try the new wallpaper in your home, contact us to learn more.