Light Up Your Space With Outdoor Lighting
Outdoor lighting, when used correctly, is a fantastic way to showcase your yard, provide safety and enhance your deck or patio. But outdoor lighting can get out of hand quickly when you disturb your neighbors late at night with bright motion-sensor lights and other accessory lighting. How can you use outdoor lighting in a great way to enhance your space?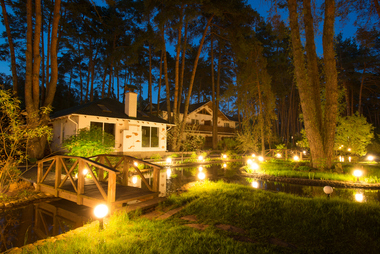 Ambient, task and accent
There are three general types of lighting that you can use inside your home: ambient, task and accent. But this lighting philosophy can also apply to your yard. When you choose outside lighting for your yard, based on their qualities, remember that ambient lighting can create a pleasant mood for guests as you entertain them. Meanwhile, task lighting can light the pathways in your yard. Accent lighting is often used indoors to showcase art, so consider how or whether you can use this in your yard, garden or pond.
Calculate your needs
You definitely need to know how much lighting you need to use for your own outdoor space. If you have a small yard but use excessive lighting, you'll not achieve the look you want or impress your neighbors. What might be most important is that landscape lighting should give you the desired effect but you shouldn't necessarily see the light source itself.
Use LEDs
Most professionals today are going to suggest that you use LED lighting for your landscaping. Why? The efficiency can't be matched. They use significantly less energy than their fluorescent or incandescent counterparts do, and they will lead to lower power bills and fewer replacement lightbulbs.
Entertaining
Along with these considerations, you also want to imagine how you will be using your yard. Do you plan to host parties, dinners or barbecues? Or do you want to just sit outside in the evening with a glass of wine and enjoy the scenery? How you plan to entertain should inform the kind of lights you use, such as string lights or decorative lanterns.
Security
Finally, we should also mention the use of lighting for security. Having a porch light is often considered to be one of the basics of home security. Some people use motion-sensor lights that will come on only when someone is on their front porch or crosses through their backyard (i.e., wherever they are installed). But there are other methods for ensuring that your home is secure, and lighting should only be an element of that equation.
How would you like to use lighting in your outdoor space? Give us a call today.