5 Smart Home Upgrades Worth the Money
Smart technology is more popular today than ever before. Smart assistants, such as Google Home and Amazon Echo, give information on demand, even faster than a regular internet search can. Smart speakers aren't the only way to incorporate smart technology into your home. The "internet of things" is expanding, and there are a few smart upgrades that are affordable and great choices to add value to your home.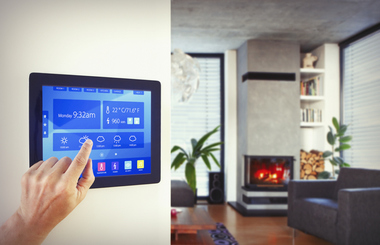 Smart thermostat. We're not sure there is a relationship on the planet in which a couple completely agrees on what temperature to keep the home. A smart thermostat can create, and even anticipate, settings for maximum comfort for all. You can even connect it to your smart speaker and use voice commands to turn the thermostat up or down. A smart thermostat will save money by more efficiently heating and cooling your space.
Smart smoke detector. Not all smart tech is about saving money — some also saves lives. Smoke detectors aren't just a good idea — they're required. But a smart smoke detector can take your safety to the next level. This type of device can send alerts to your smart phone if an incident occurs while you're away from home so that you can get the help you need faster.
Smart sprinkler system. Curb appeal is important, and so is the health of your lawn. You spend a lot of time making sure your lawn is watered. An installed sprinkler system is great, but it can cause major problems if it leaks. It can also waste water if it runs unnecessarily, such as when it's raining. A smart sprinkler controller customizes your irrigation system. You can conserve water and save money over time.
Smart lights and lamps. A completely dark house is a scary place, especially if you have your hands full. It isn't just the monsters lurking in the shadows, it's tripping hazards or other obstacles that could challenge you. With smart lights paired with your Google Home or Amazon Echo, you can turn the lights on with just the sound of your voice. The plug adapters are inexpensive and easy to use.
Smart front doors. Your car may already have keyless entry, and that tech is also available for your home. A smart door lock means that you don't have to fumble for your keys when you get home. And some systems even allow you to grant access to visitors or family members remotely when you're away from home. Imagine having pet sitters text you when they arrive and being able to unlock the door for them from your phone.
Do you want to know more about smart technology that can benefit your home? Talk to us today.