How to Buy Antique Furniture
Perhaps you just bought your first home and you want to fill it with one-of-a-kind furniture that will be loved and admired for years to come. Many people turn to antiques because they love the idea of including pieces of furniture with history or an interesting story behind it in their home. However, do you know the right way to buy antiques? There are some things you should keep in mind when antique shopping to ensure that you purchase quality pieces at a good price. Here are our best tips for buying antique furniture.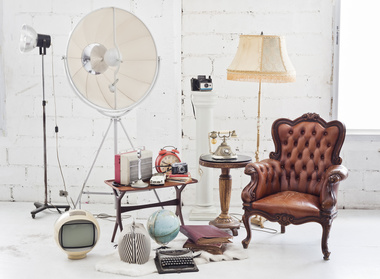 Frequent local antique shops, vintage stores and markets
The best way to educate yourself about antiques and find deals is to talk to the experts. Find local antique and vintage shops, or even flea markets, and learn about the items they carry. Even if you're not there to buy quite yet, most shop owners and vendors will be open to telling you about their pieces because you could be a customer at a later date.
Starting up a rapport with antique experts in your area is also a good way to find a deal on antiques. If the shop owner of an antique store gets an item in that they know you'll love, they might call you and let you know before anyone else; and if they really like you, they might just give you a discount.
Look for markers of good craftsmanship
At some point, you will want to do some in-depth research if you're interested in buying antiques from certain eras. For instance, dovetails on a piece of furniture is a sign that it was made in the 17th or 18th century. Long dovetails indicate even better craftsmanship. No dovetails means that it was probably made in a factory.
Another important factor to look at as a marker of quality is the hardware. Is the hardware on drawers and doors original? Also, check whether the drawers slide out well. All of these small details are indicators of good craftsmanship and quality.
Is there a manufacturer's stamp?
Many antiques have a stamp, usually on the bottom, from the manufacturer. Or it might include the signature of the craftsman. These markers can give you lots of information about where the piece was made and how old it is.
Only buy pieces in good condition
Even though these pieces of furniture are old, they should still be in good, working condition. Scratch marks and other scuffs are fine and unavoidable in most cases, but you should never buy a piece that is damaged. If the overall frame is not in good condition, it will be very expensive to repair. Or if you find a chair or sofa with good bones but torn or dirty upholstering, think twice before you buy it. Reupholstering is difficult to do on your own and expensive to hire someone else to do. Always keep your eye out for pieces that are structurally sound and in overall good condition.
Know what you're looking for if you buy online
It's become increasingly popular to buy antiques online. Many people use eBay or Etsy. However, you definitely need to know what you're looking for if you choose to buy online. You should be a little more educated than the average person about antiques because you won't get a chance to see or touch these pieces in person. Look for online shops with stellar reviews, and don't be afraid to strike up a conversation with the seller. Ask questions about the pieces you're interested in and get to know the seller a bit. Keep in mind that buying online usually comes with hefty shipping costs. So make sure it's worth it to make an online purchase rather than going to a store.
Do you have any advice or stories about shopping for antiques? We'd love to hear from you!