Countertop Options That Give the Most Bang for Your Buck
So you fell in love with your friend's gorgeous marble countertops and you wanted to have yours fixed up the same way. That is, until you saw the price tag for a brand-new marble countertop.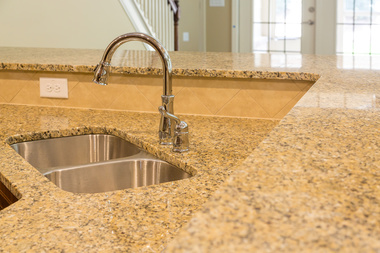 Fortunately, you can get the same high-end look of marble using different materials that are sturdy, stain-resistant and low maintenance, at a price you can afford. Here are five popular countertop options that you might fall in love with too.
#1: Granite — Stylish but Most Expensive
If the cost of marble is too much, you could opt for a sleek-looking granite countertop. It contains the same natural striations that make marble look so refined, plus it is stronger and heat- resistant and can be sealed to make it water-resistant as well.
Granite is highly customizable. You could choose a thin slab of granite to reduce the price, but of these top five countertop styles, granite is the most expensive. It can cost you anywhere from $40 per square foot up to $250 per square foot. You can find variations on granite that are even more durable. Honed granite countertops have a matte finish instead of gloss — very chic.
#2: Quartz — Less Expensive Than Granite With the Same High-End Look
Quartz countertops are the second most popular after granite because they also offer a sleek high-end look. Quartz is a natural stone, so it has unique striations like marble and granite. It is naturally water-resistant and very durable. One drawback to quartz is that a hot pot can cause a brown stain on a quartz countertop.
Quartz is easy to clean and comes in a variety of colors and styles. It can have a glossy finish or a matte finish. Quartz countertops will cost you anywhere from $60 a square foot up to $100.
#3: Wood — Built to Last and Highly Functional
Old houses are almost always constructed with wood countertops that have been either painted or laminated over the years. Wood is still a highly popular material for countertops because it is so durable.
You can choose from a variety of wood types and colors. Plus, wood can be sealed to be water-tight and is heat-resistant, choose recycled or reclaimed wood for an eco-friendly option. You will have to take special care of wood countertops to keep them from staining, burning, scratching or cracking. Wood countertops run anywhere from $50 up to $100 per square foot.
#4: Laminate — New and Improved, and Still Inexpensive
Clearly the least expensive option for new countertops is laminate. However, before you roll your eyes and immediately form your opinion about "cheapo" laminate countertops, bear in mind that laminate these days is greatly improved.
You can find laminate countertops that you would not guess in a million years were made of laminate. You can even buy laminate countertops that look like wood with natural striations. Laminate costs a budget-friendly $5 to $20 per square foot.
#5: Tile — You Can Do It Yourself
If you want to really save, you can do it yourself by taking a trip to Home Depot and grabbing some DIY tile flooring. It's easy to install and easy to maintain, and it can be done in just a few days.
Want more neat homeowner tips and tricks? Contact me anytime.