Create Curb Appeal: Budget-Friendly Ideas for the Outdoors
A relatively easy way to redress your homestead is through landscaping. Take advantage of the good weather this season by digging in the dirt or refreshing your flowerbeds. Here are six budget-friendly landscaping ideas for maximum curb appeal.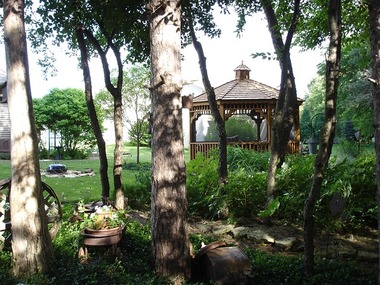 New mulch in a flower bed or other green space can instantly brighten or increase the overall color of your outdoor decor. If your ground cover is looking a little faded or sparse, then it's time to revamp and fluff the mulch. Not sure how much you'll need? Go online and estimate using a calculator specifically designed to tell you approximately how many bags to buy. Handy stuff!
Solar lights add ambiance to your exterior, and there are inexpensive options as well as elaborate ones. The categories are astounding when it comes to solar accessories. From wind chimes with color-changing butterflies to your basic pathway light, solar lighting can add whimsical or functional illumination to your curb appeal.
Pavers, river rocks or any other stackable three-dimensional addition will add visual interest to your yard at a low cost. These hardscape items can be the genuine article imported from a spring-fed river in Colorado, or they can be concrete formed and dyed to resemble the real thing. It's remarkable what you can do with concrete these days.
Year-round greenery, like members of the spruce family, including dwarf varieties, will keep the color of your landscaping no matter the season. Prices range from $25 to $80 depending on the type. Check with your local growers to see which spruce trees are appropriate for your climate.
Succulents are the go-to plant for an instant upgrade to color, shape and texture found in residential cultivation. By genetic design, they are hardy, sun-loving greeneries that need minimal maintenance and don't take up a lot of space. Here's another bonus: You can buy kits that contain a sampling of plants for around $30.
Plant a butterfly garden. Find out what species are local to your region and buy plants that will attract those types of butterflies. You can choose a host plant for the caterpillar to feed and cocoon on, or a nectar plant that feeds adult butterflies. Or both!
If you want to know more about butterfly gardens, here are the details:
Most plants in butterfly gardens need 5-6 hours of sunlight per day.
Don't use any harsh chemicals or pesticides.
Try to shelter the spot from the wind.
Provide multiple resting locations for your new fluttering friends — they like flat rocks for warmth and relaxation.
If you're far enough south to enjoy a citrus tree in your yard, kumquat blooms are a delight for Monarch butterflies; they use the nectar for fuel during their migration to Mexico.
To learn more about ways to boost your curb appeal, feel free to contact me directly.